What is a Buyers Funnel?
When considering the journey a potential buyer takes when deciding whether or not to purchase a product or a service, there are usually several steps leading up to the ultimate decision.
From a business perspective, companies take the buyer's journey very seriously, doing all that they can to lead the potential buyer towards a sale. In order to track their decision-making, or at least predict it as best as they can, companies create what's known as a buyers funnel, or sales funnel.
In short, the buyers funnel is a process the companies create and implement to lead a potential consumer to a sale. In order to create a successful funnel, one must understand the journey that a buyer takes before it arrives at its destination of purchase.
Below are the several phases of a buyer journey:
Gain Awareness
Peak Interest
Evaluate & Consider
Decide
Purchase
Product testing (i.e. reevaluation)
Repurchase
Now that you understand the phases a buyer goes through when purchasing a product or service, it's now time to learn how to create and optimize your sales funnel so that you can increase conversions and ultimately increase revenue and retention.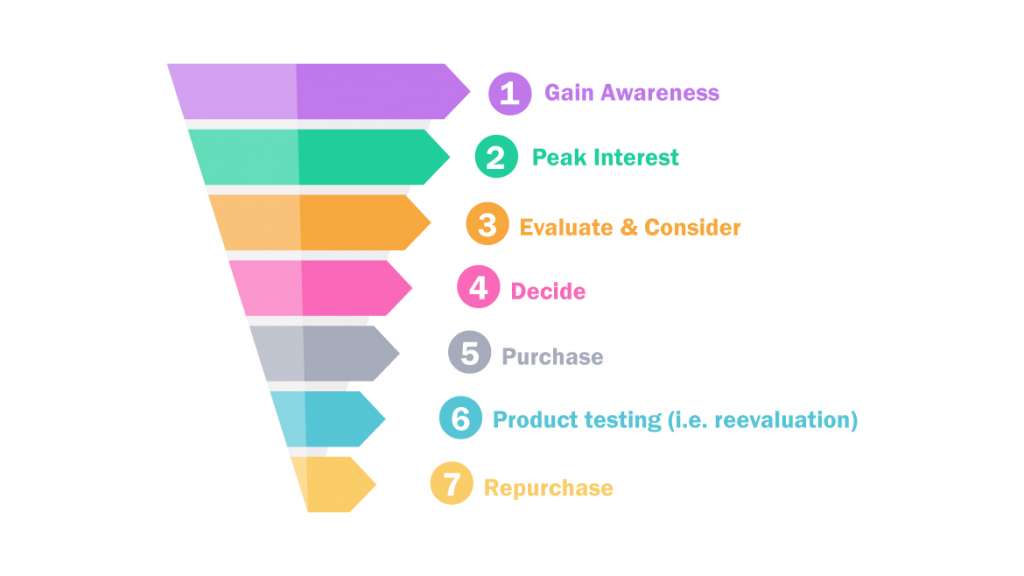 How to Create & Optimize a Buyer Funnel 
In order to create and optimize your sales funnel, or buyers funnel, you must first have an intimate understanding of the buyer's journey. As we discussed above, we now know that the first phase of the buyer's journey is awareness.
This is the phase where buyers first learn about your product or service. This first phase begs the question: How can we make a buyer aware of our product or service in the first place?
The answer? Attract them! While this may seem obvious, the execution may not be. In order to take a complete stranger who is not yet aware of your brand, and convert them to an aware potential buyer, it requires several marketing tactics.
With that said, step one of creating and optimizing your buyer funnel is 'Attraction'. This involves SEO, blogging, and social media content marketing, among other strategies.
As you can see by reverse-engineering the buyer's journey, businesses are able to create and optimize their funnel.
Once the customer has been attracted to your offerings, the buyer's second and third phases of the buyer's journey are, as discussed, gaining interest and evaluating the offer. This is where the second step of your buyers funnel comes in.
The goal during this phase? 'Conversion'. Once you know that a buyer is interested and considering, you now need to jump at the opportunity to convert them. This is accomplished by the implementation of landing pages, various calls-to-action through social posts, email marketing, and more.
The next phase of the buyer's journey is the decision and purchase. At this stage of your buyers funnel, your job is to 'Close the Deal'.
And lastly, once the buyer is purchased your product, the last phase of their journey is an evaluation of their purchase, followed by a potential repurchase. This is the final phase of your buyer funnel. Your job? To 'Please, Satisfy, and Delight' your new customer in hopes of retaining them for the long term!
Conclusion
By focusing on the buyer's journey, you as a business can better comprehend how to create and optimize your buyer's funnel for success. The ultimate goal is, of course, conversion and making a sale, in the hopes of retaining them for the long term.
Remember: Attract – Convert – Close – Satisfy.
If you can ensure that these principles are followed, the implementation of your buyer's funnel will be seamless.