Around the world, various COVID-19 lockdowns fed e-commerce increasingly while almost every online platform offers the most relevant proposals and recommendations to consumers, in order to adapt to this change. The worst part of the pandemic seems gone and customers do not have to shop online anymore. Therefore, technology giants offer new features to keep the customers in the online shopping circle.
Google is arguably in the best position to make the job easier. With the widest website network, including e-commerce sites and listings, Google is in a prime position to provide the most relevant product comparisons, the most in-depth review lists, and to help consumers on their e-commerce journey.
Expectedly, Google outlined its latest steps in boosting e-commerce effectiveness, including an enhanced partnership with Shopify and updated product search tools based on screenshots and images at its annual I/O conference.
First, Google announced that Shopify is expanding its partnership with Shopify, which will provide 1.7 million sellers with new, simplified processes to ensure they can show their products on Google in just a few clicks. It looks like an alliance against Amazon. The process is not yet clear, but the idea is that it will allow Shopify sellers to easily list their products on Google's shopping surfaces, which have seen a significant surge of interest in the past 12 months.
As a matter of fact, Google says it has seen a 70% increase in the size of its product catalog and an 80% increase in sellers on its platform in the past year, after the company removed all costs for Google Shopping product listings last April to help retailers.
Increasing the capacity to reach more searchers has great appeal, and as more products enter Google's system, it becomes a more powerful helper for e-commerce discovery.
And now, Google wants to take it even further with the evolution it calls the shopping graph.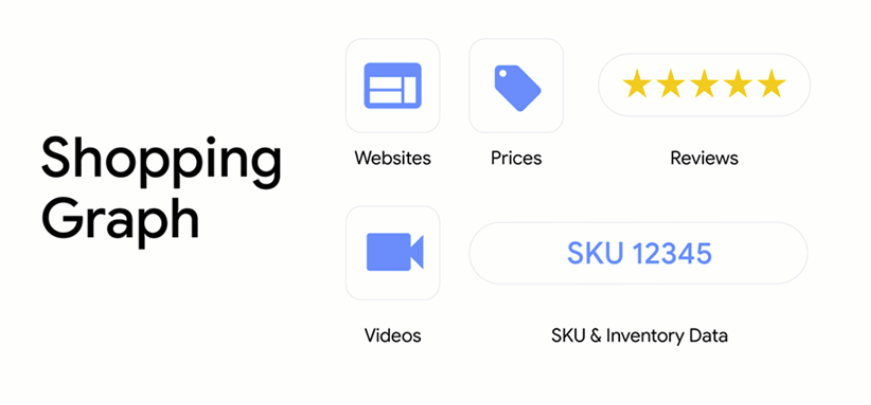 Shopping graph will be an AI-backed model designed to sense the changes in products, sellers, brands and reviews. It also gives inventory data. The notion behind it is to keep everything in real-time for a better shopping journey. This will be a huge attraction for all Shopify sellers and will improve Google's exploration and shopping experience, making it more important for all e-commerce brands.
In addition, Google wants to facilitate another product discovery tool that uses visual searches. The new feature enables Google Photos to search uploaded images for relevant product matches.
Google also wants to remind users of previous shopping activities with a new Google Chrome module. The add-on will highlight the open shopping carts that users leave on the web.
For Shopify sellers, the advantage is obvious, and they will maximize exposure to more customers. But as noted, even for those not on Shopify, the added discovery and listing options will facilitate a significant upgrade to the organic bond between them and Google.
This is the organic part of the search engine-online shopping relations, however, there is more to it. If you want to grow your sales systematically, digital ads need to be added to the magic formula. And that requires proper optimization and reporting. WASK provides all of that while enabling the users to design, publish and manage all the digital ads from a single screen. The AI-based help you get from WASK, in addition to your other marketing efforts, can make you boost your e-commerce.