While many believe that emails are a thing of the past, that couldn't be farther from the truth. Luckily, if you're reading this article, you're likely not one of them.
Email marketing has grown drastically in recent years, largely thanks to the adoption and innovation of email marketing platforms. Not only do people still use email, but the number of people who do is forecasted to grow exponentially in the coming years.
In short, email marketing still takes the trophy for being the most effective marketing strategy for direct ROI that there is, boasting a whopping 4200% average return on investment. To put that in perspective, that's earnings of $42 on every $1 spent on advertising. Who wouldn't want to take advantage of those profits?!
With several different email marketing platforms to choose from, it can be difficult to decipher which one is best for YOU. And although it largely depends on the size of your business, your goals, and your resources, there are common features to look for when trying to decide which email marketing tool to choose.
So, we narrowed it down and compared the top 5 email marketing platforms of 2021, and in this article, we're going to discuss each of them!
But, before we do, what features are the most important to consider when deciding what platform is best for you?!
Important Features to Consider
Below are a number of suggestions to consider when studying what platform would work best for your business. While there is no overall "best" option, there may be one that suits your needs more than the rest…
What Plans do They Offer?
Depending on how large your company is will largely determine what type of email marketing services you require. If you're a small company with a small contacts list that doesn't send an abundance of emails, you may want to search for a platform that offers a pay-per-send plan, or even better, a free plan.
In contrast, If you're a large corporation with thousands of contacts and multiple campaigns running at once, you're likely better suited for a robust platform that not only offers all of the features that you need but also a plan that provides you with cost-savings or a custom discount offer.
While this feature is somewhat new to the email marketing space, it's luckily quite common due to the rapid popularity and stringent value companies and brands place on social media.
This is a pretty standard feature on most email marketing platforms these days, however, a notable feature nonetheless. If the platform you choose doesn't have an A/B testing feature, whether you're going to use it or not is beside the point, you may want to run away fast. It's likely a sign that they're behind the times.
Customer Service & Live Chat
It's inevitable that your business is going to run into trouble at some point during the lifecycle. Customer service and live chat features become especially important when considering the number of emails you're sending out and how many customers are involved at any given time during an email campaign. As such, having a reliable customer service team that you can contact in an emergency scenario is of the utmost importance.
Other notable features that we don't have the time to discuss in this article include but are certainly not limited to: marketing automation, mobile integration, text marketing, ease of use, sending allowance, personalization, image library, and data tracking, among others.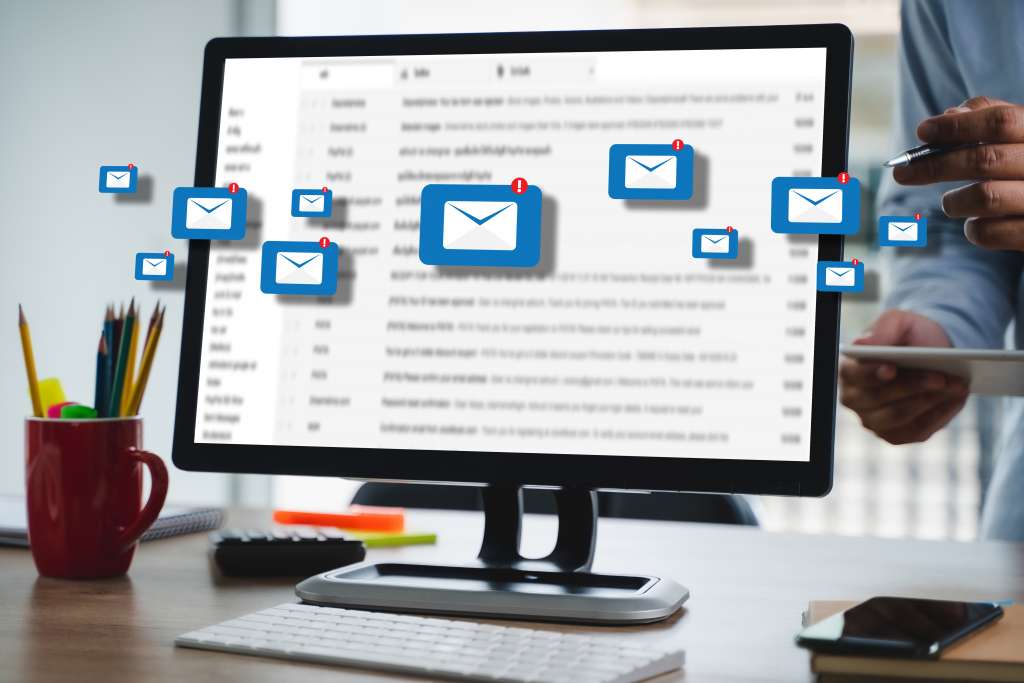 Top 5 Email Marketing Platforms
While there are several great email marketing platforms on the market in 2021, there are also not so great platforms. In which case, it's important to know, at the very least, the top five to choose from.
Below are our top 5 email marketing platforms of 2021:
Rating: 4.75/5
 An extremely prominent email marketing tool year-over-year, there's no doubt that MailChimp would be included in this list. Especially useful for small businesses and beginners, MailChimp provides an incredibly easy-to-use platform, largely due to its drag-and-drop feature.
With respect to its versatility, MailChimp allows you to type in plain text, HTML code, or even via a pre-curated theme/layout. The options are abundant, to say the least.
With 24/7 customer support, a mobile application, and tiered pricing that's fair for everybody, MailChimp sits atop the list for best email marketing platforms of 2021.
Rating: 4/5
 Not only does HubSpot have an incredibly reliable reputation in the CRM and Marketing space in general, but it just so happens to have an extremely effective Email Marketing platform as well!
It's free to begin, it offers automation, and its ease of use is comparable to the best. With incredible delivery rates, reliable data metrics, A/B testing, and integration for optimizing send times, these are just a few features that you can come to expect.
Lastly, HubSpot has extremely fair pricing, flexible depending on your needs.
 Rating: 4.5/5
If you're looking to increase conversion, gain reliable performance metrics for improvement, integrate your email flow with SMS messaging, and get real-time analytics for real-time results, Klaviyo has you covered.
Because of the advanced innovation and abundant offerings of Klaviyo, however, it does come with a steeper learning curve than most. Nevertheless, while it may take some time to get used to it, the interface itself is quite streamlined and smooth.
One common complaint from previous customers of Klaviyo? The price…If you can get past that and can see through to the value it provides, Klaviyo may be the choice for you!
Rating: 4/5
Although Drip is a great email marketing tool, it does come with somewhat of an integrative learning curve. Nevertheless, once you get used to it, it's quite an effective platform.
With respect to its resourcefulness and versatility, Drip doesn't come equipped with a mobile application or text platform integration. While this may be a turnoff to some, it's definitely not a dealbreaker.
Lastly, Drip doesn't offer unique packages. In other words, what you see is what you get when it comes to the features offered.
Rating: 4.25/5
Similar to MailChimp, Sendinblue is an incredibly easy-to-use, well-priced, and versatile email marketing platform. Offering both desktop and mobile application setup, drag-and-drop editors, and a modern sleek interface offering an abundance of features, you truly can't go wrong.
Email personalization and customization? No problem. Tiered segmentation? Easy. Effective CRM functionality? You got it. Email automation? Of course.
With Senditblue, you don't need to worry about the success of your email campaigns. Let it do the heavy lifting and enjoy the ROI.