Advertising images are an indispensable part of digital advertising. Without the ad image, the ad cannot get the required attention from the masses. For the advertising campaigns to be effective, it is very important that the advertisement image is of high quality. The high resolution of the ad image does not mean that the image is of high quality. It is necessary to pay attention to details such as not having too much text on the advertisement image, choosing the appropriate image for the campaign, and using the right color.
Here are the details to consider before preparing the ad images:
Accurate Competitor Analysis:
If you are not a single company in the product or service you are advertising, you should use your ads effectively and stand out from your competitors and make yourself visible. The most effective way to do this is through a properly done competitor analysis.
Competitor analysis will allow you to examine how your competitors create and manage their ads. In short, the points to be considered to distinguish you from your competitors are as follows:
Are you different from the color tones used in competitor ads?
Which brand comes to your mind first when you see your advertisement image for the first time as a customer?
At what points do you differ from your competitors' advertising efforts?
Are you expressing your product or service in a way that has not been described before?
By answering all these questions, you need to review your advertising images again and again by comparing them with the work of competitors. If you do not want your ad image to evoke another brand, you should do a competitor analysis.
Visual Quality:
No matter what medium you are preparing the advertisement image for, having a high-quality image will always be beneficial for you to show quality ads to your target audience. Especially in digital ads, images represent who you are as a brand and affect how people perceive your brand.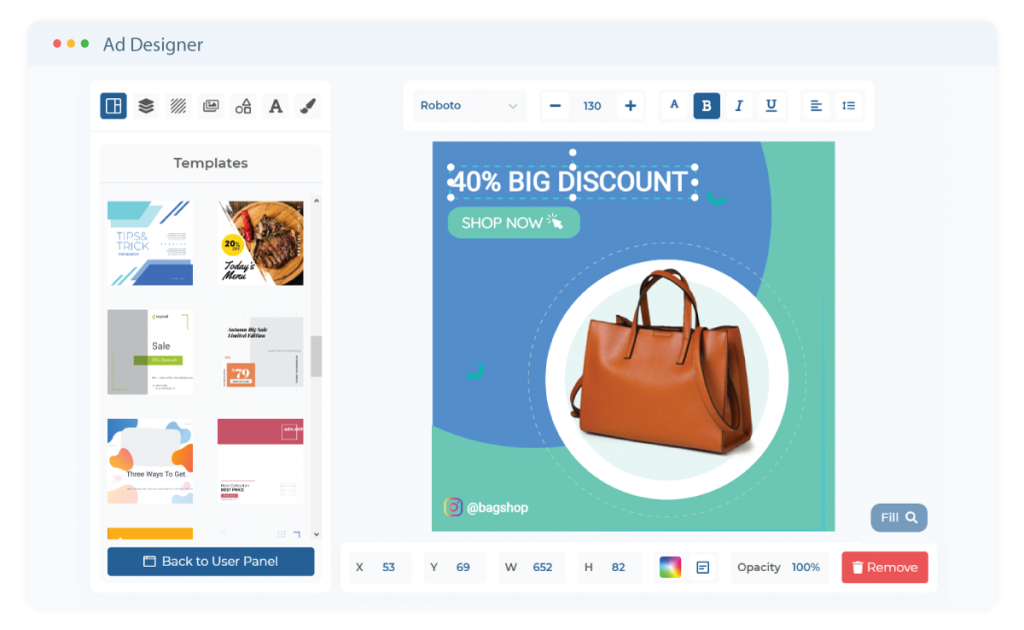 Visual Texts:
Many advertisers take care to present the campaigns and opportunities related to the service or product they offer in the ad visuals in the form of text.
This, as you know, is one of the most remarkable points in the advertising image.
While presenting your campaign and opportunity, which is the main purpose of your ad, in visuals, it will be beneficial for you to pay attention to the following points, to get more interaction and for a correct marketing strategy:
Does your text go one step ahead of the details you want to present in the image?
Does the user who looks at your ad image see the campaign first?
Does the text color stand out among the visual details?
Is there a topic in the text that will interest your target audience?
Do some words need to be emphasized separately from other texts?
Topic Selection:
The most effective way to use the budget you allocate for your ads efficiently is to prepare an image that can get interaction, especially for social media. When choosing a suitable topic for social media, you can use the following questions:
Is the topic you have chosen the type that your target audience will be interested in?
Did you prepare an image on a current/popular topic?
Is there an element of humor in your ad image?
Decision Making Process:
One of the most important benefits of ad images is that they can speed up people's decision-making process. If you have done the right ad targeting, your ad will be shown correctly to people who need that product or service. Speeding up the decision-making process of the customer, who is in the thinking process, in your image is one of the rare elements that makes your ad effective. By including a clear call to action in your images, you can positively influence the decision-making processes of potential customers.
How to design the best advertising image?
You need to be able to create images that attract attention and perform well. By using Ad Design Tool, perfect creative-design tool by Wask, you can prepare perfect ad images for your Facebook Ads. It has everything you might need to prepare a high-performing image. To make your digital ad images awesome with Wask by using a variety of free stock photos, emojis and backgrounds, start here!