WASK Competitor Comparisons

9

min read
Click here for details of how WASK compares to competitors Adespresso, Madgicx, Adzooma, Adriel, Trustads, WordStream, and Smartly.io.
You can see many different tools for digital ad management. The digital world is full of alternative software that will make advertisers' jobs easier and save them time. As an advertiser, it can be difficult to figure out which one to choose.
For this reason, we have compared popular software objectively and in detail, and this content, you can find information about the digital advertising management software WASK, which can be an alternative to many software.
Adespresso vs. WASK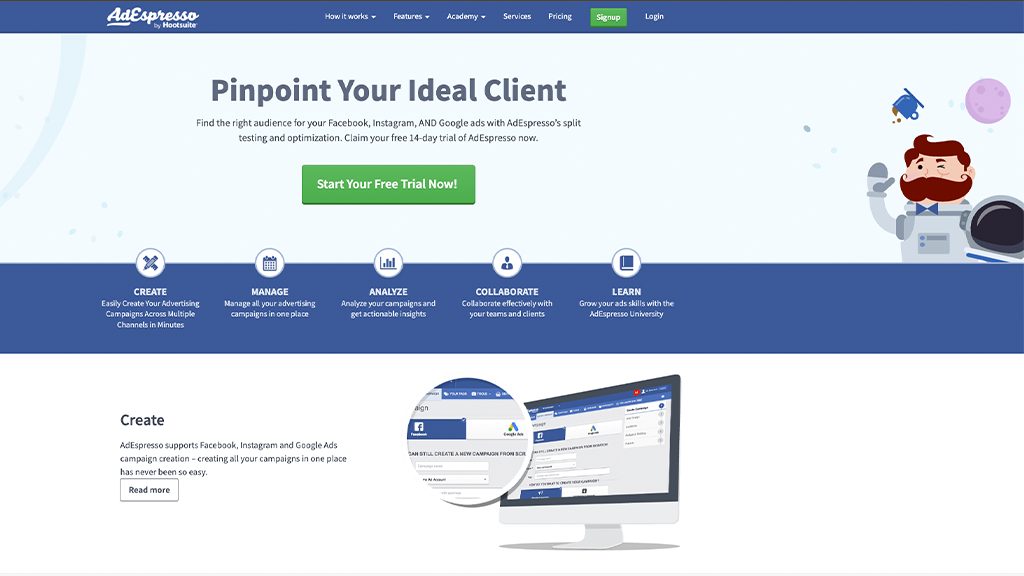 1. Customer Relations
In addition, compared to WASK Adespresso, it is a platform where customer relations are more active and progress in real-time. While the automatic response system welcomes you in Adespresso, WASK stands out with its system that communicates with you one-on-one.
2. AI Copywriter (Adespresso vs. WASK)
Adespresso doesn't offer features like creative AI copywriter like WASK during the campaign production process, and you may have to devote a large portion of your time to searching for suitable text.
3. Smart Audience, Smart Advice, and Smart Signals
When you don't get the results you want after placing your ads in Adespresso, you have two options: Either you end the ad or you find the reasons for the inefficiency through trial and error. WASK; Smart Advice differs from Adespresso because, just like Smart Audience, it can both guide you through the marketing process and speed up optimization. As you go, it moves you ahead of the curve through smart signals and alerts. In short, WASK can be shown as a useful alternative to Adespresso.
Madgicx vs. WASK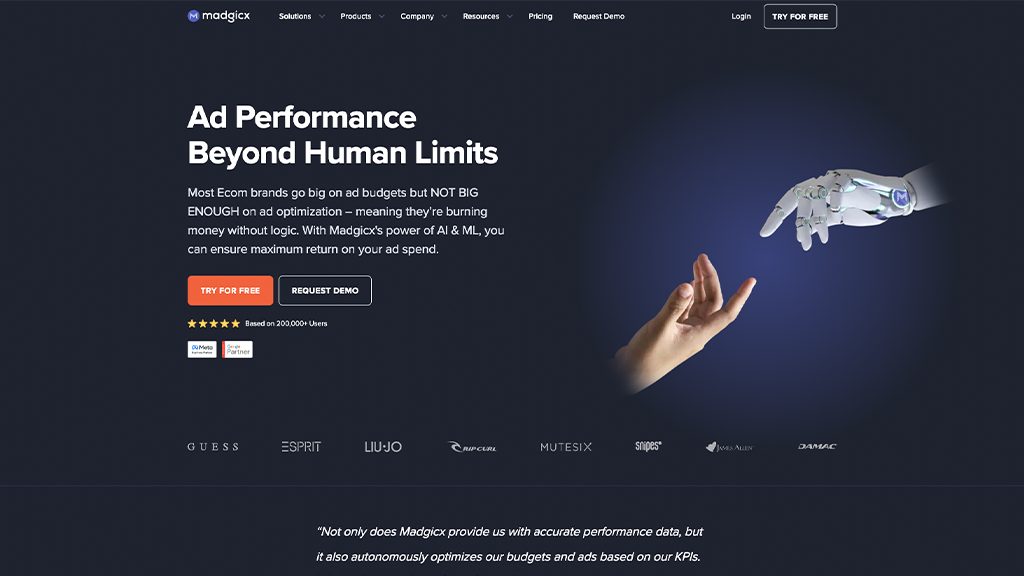 Madgicx emphasizes that it's not enough to take one step to move forward, so more innovative steps should always be taken. Both SaaS marketing has come up with great ideas and slogans and has taken it upon themselves to help digital marketers. While both platforms have many features, there are also significant differences.:
1. Free Trial and User-Friendly Interface
WASK users receive a 15-day free trial, which allows them to become fully familiar with the platform before paying. Madgicx's free trial period is only 7 days. Also, when comparing the user interfaces of both platforms, it is clear that WASK is much more understandable and user-friendly.
2. Smart Optimization
WASK's optimizer allows you to choose the second option. All you have to do is click the optimize button for your inactive ad that isn't performing well. Your ad will be automatically optimized for you. Madgicx, on the other hand, does not offer such a service and does not have an optimization tool. However, it gives you access to a lot of information about your ad. If you'd like, you can analyze this data yourself and make changes to your ad.
3. Smart Advice
Many details are critical for advertisers, such as the audience and age range an ad is targeted, as well as the devices on which the ad is displayed. Madgicx does not currently provide this service. It would not be wrong to say that WASK lags in this regard. In summary, WASK can be viewed as a viable alternative to Adespresso.
Adzooma vs. WASK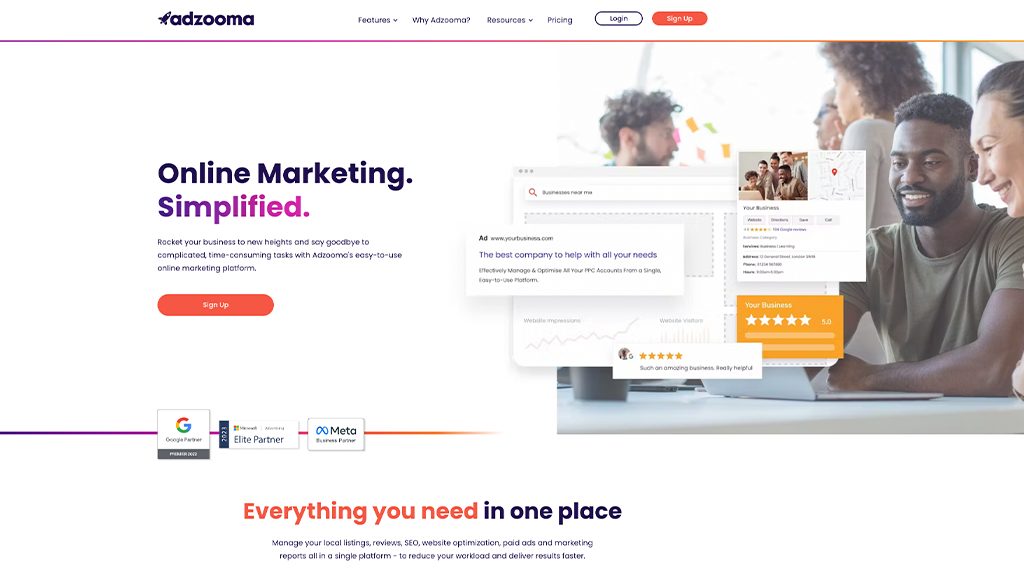 Adzooma is a digital advertising platform that serves and tracks Google ads. Google aims to eliminate the hassle of delivering ads and streamline the distribution process. Although Adzooma aims to make Google ad serving faster and easier, it is mostly a PPC platform.
Therefore, it should be noted that Adzooma is not entirely effective and useful for running digital ads. Being able to make improvements to Facebook and Instagram ads, as well as having more options in Google ads, makes WASK more useful.
1. AI Copywriter
The inability to run Facebook and Instagram ads on Adzooma means that Adzooma is unable to focus on creative features. With WASK, you can design and edit the text of your Facebook, Instagram, or Google ads in one place.
2. Smart Audience
The Smart Audience is a lifesaver for inexperienced advertisers. Advertising to the right audience can save you budget while increasing the efficiency of your ad. If you have no idea where to start with your Facebook and Instagram ads, you can easily use the smart audience tool.
You only need to share your website and Instagram addresses. Then, using data from your WASK website and Instagram addresses, it can automatically generate the audiences that are right for you. In this regard, WASK and Adzooma differ from each other, since Adzooma does not have such or similar services. In short, WASK can be shown as a useful alternative to Adzooma.
Adriel vs. WASK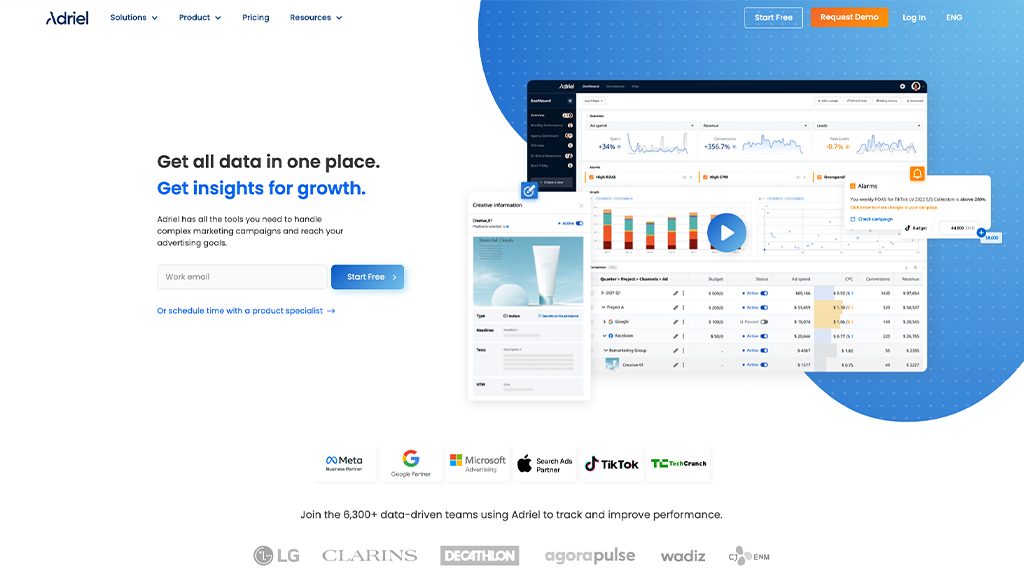 1. AI Copywriter (Adriel vs. WASK)
Adriel users have to use an outsourced tool when preparing the texts they will use in their ads because there is no design tool or anything like that. But WASK's AI-based creative features outpace many AI tools.
2. Smart Optimization and User-Friendly Interface
You can spend your money more efficiently by tracking marketing metrics across Facebook, Instagram, and Google ads. You can also support the optimization process with features such as user-friendly reporting that you can tailor to the way your company works.
Unfortunately, if you want to use Adriel, you have to do all the checks and procedures yourself. In summary, WASK can be viewed as a viable alternative to Adriel.
Trustads vs. WASK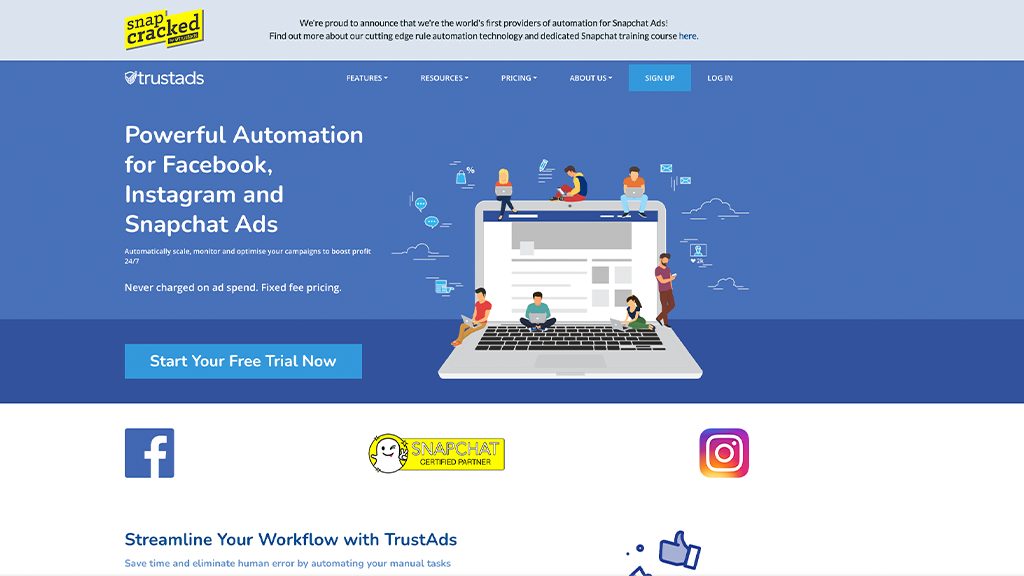 With TrustAds, you can monitor and manage the ads you run with Facebook Business Manager or Snap Ad Manager. However, before you start using TrustAds, you should learn how to use these advertising platforms. Once you know how to use these platforms, you can use TrustAds to monitor and manage your ads if you still need them.
In WASK, you do not have to deal with details that you will not use because it is software developed according to your needs and prioritizes saving time.
1. More Longer Free Trial
You can't use the free trial in TrustAds without providing credit card information, and the trial period is only 7 days. WASK, on the other hand, allows you to use the free trial version without asking for any card information, and you can try it for 15 days.
2. AI Copywriter (Trustads vs. WASK)
As we mentioned above, it's not possible to run Facebook and Google ads with TrustAds. Naturally, TrustAds does not provide a service for pre-authorizing Facebook ads. WASK aims to solve all problems in the ad distribution process. That's why WASK has a professional AI copywriter tool. In short, WASK can be shown as a useful alternative to TrustAds.
WordStream vs. WASK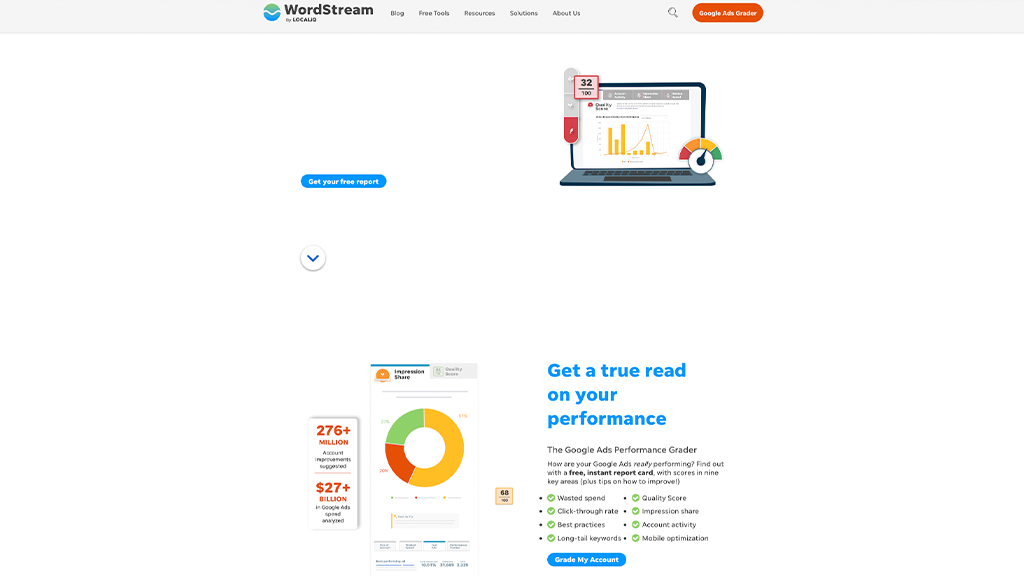 Until the near future, Wordstream was a digital advertising platform that helped non-professional advertisers with a variety of tools to run Google ads. Later, he changed his axis by incorporating it into the LOCALiQ Company.
1. Free Trial of WASK
You can use the free trial version of WASK for 15 days to understand and experience it in depth. However, it does not offer an option to test the Wordstream software. Of course, it is a disadvantage for users as they have to pay to use it without any experience.
2. Smart Optimization (WordStream vs. WASK)
It helps you reach a more accurate audience by automatically detecting all aspects, including ad placements, demographics, audience, position, ad strategy, conversions, and costs. It is also possible to track all changes from the optimization history page.
Unfortunately, this amazing feature belongs only to WASK. If you are a Wordstream user, you need to manage all these complex processes manually. In summary, WASK can be viewed as a viable alternative to WordStream.
Smartly.io vs. WASK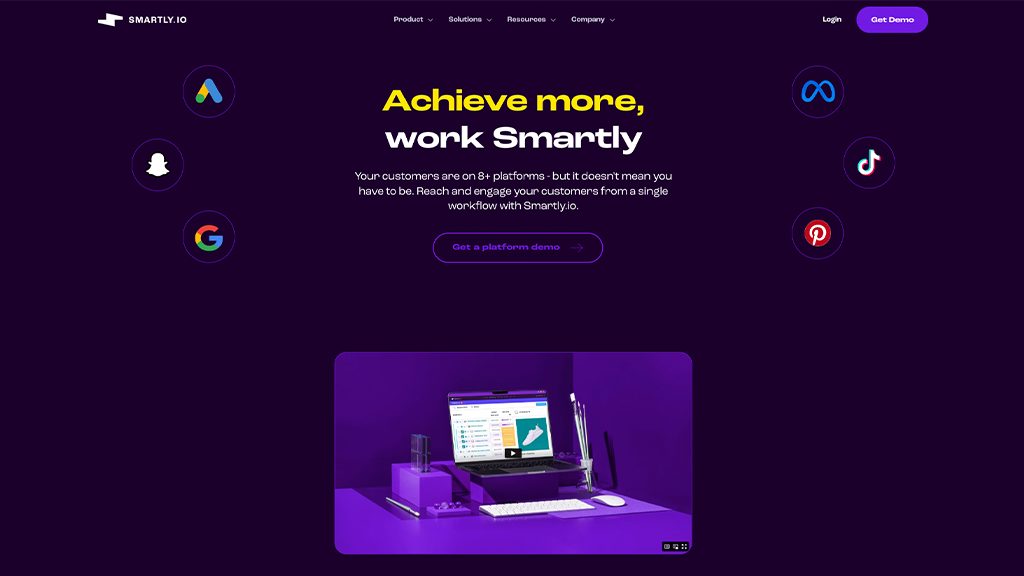 First, it should be noted that Smartly.io is not a suitable platform for small and medium-sized companies and individuals, because it has a fairly high ad spend requirement to work together. Smartly.io is a Social Media Advertising Software.
You also can't use Smartly.io as an individual advertiser because business email is a must. WASK provides both B2B and B2C services; is a software that enables to produce, manage and optimize campaigns on a more comprehensive digital marketing platform.
1. WASK's Free Trial vs Smartly.io's Free Trial
When considering free trial options, WASK offers users a safer space. Because you don't need to share any of your card information to try WASK. However, there is no free trial option for Smartly.io. If you want to use Smartly.io, you'll have to pay for it before you can try the tools.
2. User-Friendly Interface
On the other hand, Smartly.io has a more complex dashboard; The dashboard is covered with all metrics, regardless of whether they are important or not. Smartly.io dashboard is not only complicated but also slow due to the appearance of unnecessary metrics. Therefore, the WASK dashboard is more convenient and functional for advertisers.
3. AI Copywriter and Smart Optimization
With WASK, you can make creating your Google, YouTube, and Display Network ads with an AI-based copywriter more intuitive, original, and professional. WASK also has optimization features that make the campaigns you create unique to you and ensure you spend your campaign budget correctly; In short, WASK can be shown as a useful alternative to Smartly.io.