Collection ads are one of the advertising models that both brands and users are in high demand for. Collection ads that provide store comfort; easy and effective navigation, product-oriented appearance and practicality provide a comfortable experience.
Collection ads are a system that converts the products on your website into a specific format, along with the product name, price information, descriptions and images. Thanks to this system, collection ads can appear, you can use "Instagram Shop" and tag products to your ads. You can reach new audiences faster and get better conversions thanks to the collections you create via Facebook and Instagram. If you are actively sharing products on your Facebook and Instagram accounts, you should definitely support your e-commerce site with collection ads. Facebook offers multiple methods for collection ads. You can choose the option that suits you in them and start creating collection ads immediately. Using the collection ad module for Facebook and Instagram ads will allow you to provide a fast shopping experience. More sales-oriented and just looking, this ad series will take you to the forefront of products with a price advantage. At this stage, it is important that the images of the products on your website are accurate and effective, and that they have studied product descriptions. Review the names and descriptions of your products with a final check when taking products to Facebook with XML help.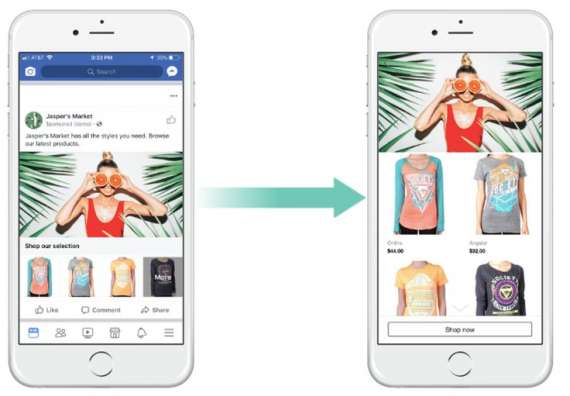 Ways to create a collection and add products to the collection
You must create your Facebook Catalogue before you start using collection ads, which are the advertising model in which every e-commerce site falls without exception. To create a collection, you must first log in to the Facebook Business Manager panel and Open The Assets > Collections Tabs. You can also follow Business Settings > Data Sources > Collections as one of the steps that you can access on the Collection Manager tab at the top left. Then simply select "Create Collection" and select your category. If you want to add products to the Facebook collection, you can manually upload your products by following The Products > Add Product step.
If you think you have a little more technical knowledge, or if you work with a digital marketing agency, installing it using XML would be a healthier option. You can do this via Facebook Pixel. No matter what method you use, your data file should contain the price, product name, description, and image. When making your adjustments, you should remember to select the currency you use and the update frequency. Regardless of the method you choose, you must determine installation methods according to the characteristics of your website and constantly check your ads and confirm whether they are updated to create an error-free job.
Linking Product Collection and Facebook Pixel
To create dynamic ads, you must connect the product collection and Facebook Pixel. To create Facebook collection ads, just follow the steps of Event Data Sources > Connect to Tracking and select your Pixel. After checking whether your collections are working with Facebook Pixel Helper help, you can perform the binding process. If there is a green tick next to your collections, it indicates that you have made a successful collection installation. If your collections are not working, you will not see the green icon. If you think there is a problem with the installation, you can delete the collection and try again, starting from the beginning of the steps.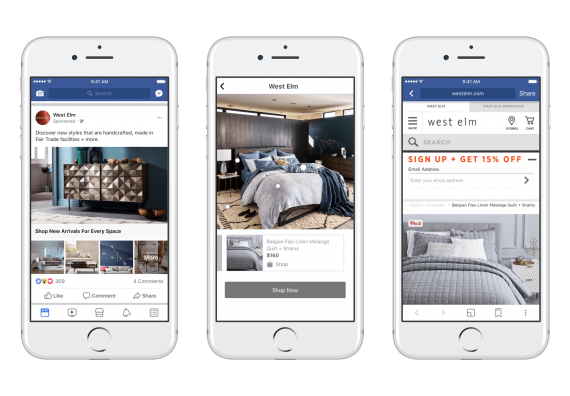 Create and use Facebook collection ads
Your Facebook collection ad is ready to appear after you have successfully completed the steps to create a Facebook collection. Now from your Facebook Business Manager page, follow the steps of Ad Manager > Create > Collection Sales and select the collection you want to use in the campaign. You should definitely use budget optimization in your collection ads. This allows you to manage collection conversions at a low cost. If the products you will use in the campaign are in a specific category, be sure to select the relevant products in your ad settings. Remove products that are not compatible with your ad campaign from the collection in your ad settings. Create your ad strategy after you have identified the appropriate audience for your collection ads. In the optimization and expense controls section, be sure to set in-broadcast optimization as "conversion events" and select the event type as "shopping". When you get to the ad set section, you'll see a different look than other Facebook ads. Choosing a format that usually rotates in this area will allow your target audience to see your ads as scrollable. This, in turn, will give your target audience a new advertising experience.
Facebook collection creation requires a basic level of technical knowledge and the use of Facebook Business Manager. Getting support for the most effective collection installations is always important so that you can achieve more successful results. Click here to create your Facebook and Instagram collection ads easily and quickly with Wask right now.